Cámara Argentina de Productoras Independientes de Televisión
Notice
: Undefined variable: post_id in
/mnt/oldhom/capitorg/public_html/new/wp-content/themes/AegaeusWP/functions/header-separator.php
on line
15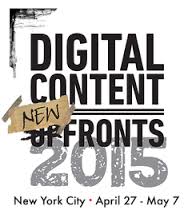 Según el último informe de IAB el 68% de los profesionales de marketing y de agencias planea incrementar su inversión publicitaria en vídeo digital durante el próximo año. Esta es probablemente una de las razones del crecimiento de este evento que en su octava edición ofrece grandes anuncios, algunos de los cuales detallamos a continuación:
1 – Yahoo! anunció 18 series
En busca de crecer en el terreno del video online, donde su oferta aún parece estar muy lejos de la de compañías como Netflix, Hulu y YouTube, Yahoo! apostó este año por la suma de nombres de peso.
En total, la compañía anunció 18 series, entre los que destaca sin lugar a dudas el competition show Ultimate DJ, que llega de la mano de nada más y nada menos que Simon Cowell. El programa buscará al siguiente gran DJ del mundo de la música e integrará votaciones en Tumblr. El vencedor ganará un contrato con Sony.
Otros títulos destacados son I Am Naomi, una serie lifestyle sobre moda con Naomi Campbell, y Riding Shotgun with Michelle Rodgriguez, en el que la reconocida actriz maneja vehículos.
La oferta de Yahoo! asciende ahora a 47 series.
2 – MakerStudios anunció sinergias a través de grandes franquicias
Comprada por Disney hace poco más de un año, MakerStudios es actualmente la principal Multi Channel Network en YouTube, con 10.000 millones de views por mes, el doble que el año pasado. Además, cuentan con 650 millones de suscriptores y un total de 55.000 canales, 200 shows en desarrollo y 30 en producción.
Junto a esas impresionantes cifras Ynon Kreiz, CEO de MakerStudios, anunció ahora sinergias con Marvel, ESPN y Lincoln Square Prods (de ABC) a través de las cuales Maker utilizará propiedades y franquicias de las primeras para llevarlas al mundo digital y volverlas apetecibles para los millennials.
Así, Marvel y Maker explorarán contenidos digitales originales basados en las propiedades de Marvel. Con ESPN, Maker llevará al mundo digital a atletas top de los X Games junto a sus propias estrellas. Con Lincoln Square están trabajando en una serie de cortos irreverentes titulada American Woman.
3 – BuzzFeed producirá series y películas
Reconocida como una de las compañías digitales del momento, la presentación de BuzzFeed tuvo pocos anuncios concretos, algunas pistas de lo que harán y una gran cantidad de datos que respaldan su gran momento.
Es que el medio digital lanzó en agosto BuzzFeed Motion Pictures, unidad en la que está colaborando el productor Michael Shamberg (Django Unchained, Erin Brockovich). Aunque no anunciaron proyectos, adelantaron que «estan cerca» de hacerlo y que producirán series y hasta películas.
En materia de datos, revelaron que actualmente crean 50 horas de contenidos cortos por semana, que ya suman 1.000 millones de views cada mes, 24 millones de horas consumidas en múltiples plataformas cada mes y que el 40% de sus reproducciones se realizan fuera de EEUU.
4 – YouTube producirá películas y apoyará a cuatro canales
La plataforma de videos de Google anunció un acuerdo con AwesomenessTV por el cual ayudará a financiar una serie de películas centradas en algunas de las celebridades de YouTube. Las mismas se irán lanzando en los próximos dos años y, aunque no trascendieron demasiados detalles, a juzgar por los tiempos de producción que se manejan no se espera que sean grandes producciones.
Además del acuerdo con AwesomenessTV, YouTube también adelantó que apoyará económicamente a otros cuatro canales: The Fine Brothers, Pranks vs. Prank, Joey Graceffa y Smosh.
5 – Condé Nast lanzará 2.500 videos originales
Condé Nast Entertainment, compañía detrás de propiedades como Wired, Vogue, Glamour, Style y GQ anunció que en los próximos 12 meses lanzarán 2.500 videos originales.
Entre los mismos destaca la webserie original Tyler Zone, una comedia de ciencia ficción protagonizada por Danny Pudi, de Community. Andy Samberg, Akiva Schaffer y Jorma Taccone serán productores ejecutivos.
Otros títulos serán 73 Questions (Vogue), Beauty This Week (Allure), Cyborg Nation (Wired), Golf Everywhere (Golf Digest), How To Think Like a Tree (Wired), Improv Imagination 2 (Vanity Fair), Ladies Who Luxe y Most Expensivest Shit (GQ), entre otros.
Etiquetas: Datos útiles

Warning: A non-numeric value encountered in /mnt/oldhom/capitorg/public_html/new/wp-content/themes/AegaeusWP/includes/theme-likes.php on line 72
0